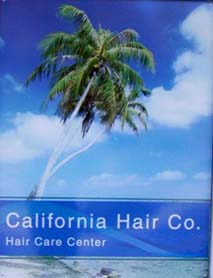 12903 Alcosta Blvd, Suite D
San Ramon, CA 94583
925-277-0989
(At Crow Canyon Rd near Post Office)
WIG SALON





"Private Issue" Cyberhair Wigs

"Private Issue" Cyberhair Wigs represent the very best of the newest wig technology with the highest quality hair available today. "Private Issue" features Cyberhair®, a patented, ultralight, ultra-realistic created hair. The Collection also features two, light-wearing, practical and durable caps: the Action Cap and the Ultimate Cap.

"Private Issue" Cyberhair wigs is the first wig line for women to feature Cyberhair® -- the world's most technologically advanced, patented hair. Cyberhair is virtually indistinguishable from human hair. It is light as a feather, soft and silky, with rich hues and subtle, shimmering highlights that never fade or change color.

With Cyberhair®, you can live your life to the fullest: work, sleep, swim, exercise, even enjoy intimate moments without worrying about your hair. Because of its unique style memory, your Cyberhair wig requires no styling and only basic maintenance to keep it looking great. Every wig in this collection comes with extended ear tabs for natural appearence, plus loops for scarves and eyeglasses.









Cyberhair Sport System

Imagine feeling the wind in your hair as you bike or run, and the cool water on your scalp as you swim. This is the essence of the Sport system featuring Cyberhair®. The durable Active Cap is lightweight and incredibly comfortable, yet virtually invisible. Its unique, breathable weave and confident fit frees you to be as active as you choose to be, with soft, flowing tresses that move with you. Soaking wet, hair behaves just like human hair, yet returns to its original style as it dries.

Experience the first swim wig!
This is the Sport Cap Wig




Available for kids, too!







Cyberhair Intimacy System

Dare to dream with "Private Issue" Intimacy system featuring Cyberhair®. You'll feel playful and sexy, with silky soft, irresistibly touchable hair that stays beautiful all night, yet is styled and ready to go in the morning.

When it's time to relax and share a special closeness, you will love the natural, comfortable feeling that is the Active Cap, with its gentle, secure fit and cool, breathable weave. Wear it with confidence and enjoy intimate moments and sweet dreams!











Color Beautiful Collection

The intention in creating Color Beautiful was to give women of all ethnicity, regardless of their reason for needing alternative hair, the opportunity to feel the comfort, freedom, joy and built in privacy.

It's all about choice ! Well with Color Beautiful, you have that and so much more. Ladies we are talking about shear optimum diversity !

Whether you desire a textured "Sleek" look, a texture with a small amount of "Movement", or our texture "Tousled" look... with Color Beautiful, you now can achieve the appearance you have always desired !

So ladies - go for it ! Now is your time to realize your true potential.


Color Beautiful Collection


FULL SERVICE WIG SALON

We carry a large assortment of low to high quality wigs. We feature the patented "Cyberhair Private Issue wigs".

We carry human hair and synthetic wigs and hairpieces.

All purchases include aeration and needed trimming. Without this you will not get a natural look and style.